BACON ON BACON!
What's better than eating Kalua Pork (?) – eating bacon-wrapped Kalua Pork! This awesome recipe is a combination of Happy Money Saver's (HPM) and Tasty Island Hawaii's (TIS) recipes. HPM came up with the bacon coverage idea and TIS, the toaster oven guideline. HPM used a slow cooker to make her Kalua Pork.
I spent more or less 4 years of my adolescent life in Hawaii and I discovered the goodness that isKalua Pork through Waipahu High School's cafeteria. Yes, we were served decent meals at a public school cafeteria. We had Teriyaki Chicken, Shoyu Chicken, can't remember if there was curry, but definitely remember, having Kalua Pork; then again, I skipped school quite a lot so I may have had Kalua Pork elsewhere.. but we were definitely served Teriyaki Chicken and rice.
So anyway, since Ben and I moved to Central Oregon, I have been preparing our meals daily. I love slow cooking because I can basically leave the food alone. What I hate is using the slow cooker because it is so huge and I only had about a pound and a half of pork butt to cook; so i opted to use the toaster oven.
Originally, I was going to roast the pork in a Pyrex but after reading about exploding Pyrex(es?) online, I just wrapped my baconified pork baby in foil. Before I share the recipe, let me tell you, I pretty much eyeballed it so I will just copy and paste TIS' recipe sans the Ti leaves avec (with) bacon! HPM was spot-on when she said wrapping her little piggy butt in bacon paid off. I usually like to keep with tradition but this is a good twist to tradition.
 E ʻai kākou! Let's eat! 
Bacon-wrapped Oven-Roasted Kalua Pork
Ingredients:
Pork Butt (shoulder) – approximately 5 lbs. and no larger than what will fit on pan on a rack in the oven. (I had about 1.5lbs)
Liquid Smoke – approx 2 tbsp. (I used a cap full, told you – eyeballed!)
Hawaiian Salt – approximately 3/4 cup (I used the Pink Himalayan Salt from Costco, about a tbsp)
BACON! (I believed I used about 6-8 strips of Smoked bacon from Costco)
OPTIONAL:  4 cloves garlic, 5 ti leaves or banana leaves (enough to wrap pork) and cabbage  about 2 cups (I used coleslaw mix instead)
Now we prep!
For ease of transport, place a sheet of aluminum foil on a cutting board or whatever surface you're prepping on. Make sure foil is long and wide enough to wrap around the pork butt. If you decided on using Ti or banana leaves, layer them across the foil. According to TIS, you can "debone" the ti leaves but he doesn't. He only cut the thick and stiff stems off.
Then you place your pork butt on the ti leaves.
Take a knife and poke holes over the entire pork butt. Tuck the pieces of garlic in the holes that you just poked into the meat.
Pour about a tablespoon of liquid smoke on the pork butt and rub it evenly over the entire surface. Don't over-do the liquid smoke, if you feel it needs more smoke, just add a little after your done roasting. After coating, take your salt and "let it rain" evenly over the entire surface. Again, easy on the salt because your bacon will help with the salitness as well!
Then comes the genius idea of HMS!! Wrapping it up in BACON! So yeah, wrap that baby butt up!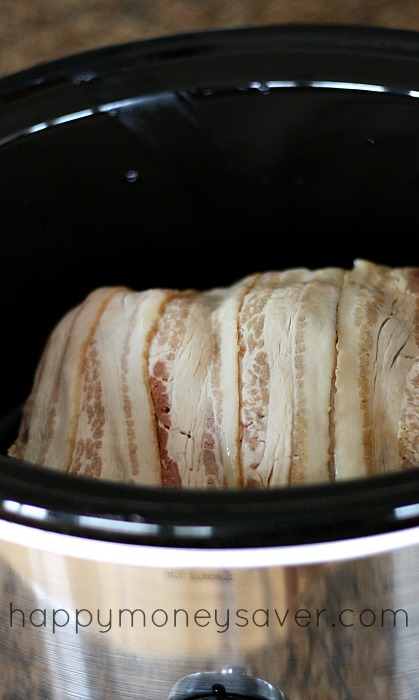 Then you basically, wrap your bacon-wrapped pork butt with foil. Make sure it's sealed tightly so that the moisture stays inside. Place your wrapped pork but on a (toaster oven-sized) roasting pan with a rack on it. Rack is important to help the heat distribution and keeps the pork elevated out of any drippings in the pan beneath.Place in a preheated oven (or toaster oven in this case) set at 300ºF. It will take 7 hours to cook. After 1 hour of roasting, reduce the heat to 275ºF and leave it there for the remaining 6 hours of cooking time. Some folks roast their kalua pig at a higher temperature, like the standard 350º, but TIS believes that "LOW 'N SLOW is the WAY TO GO."After 7 hours are up, turn off the oven and open the door. Now let the kalua pig rest for another half hour to an hour to cool down in the oven. This will not only make it easier to handle, but also helps to retain moisture.
After its resting period, remove the kalua pig on the rack from the oven, place on counter and open up the foil. Grab two forks and shred the bacon and the pork. Serve on top of rice.
If you want to do the cabbaged plate, what I did was throw the shredded kalua pork in a pan, added about two cups of water and used a chicken cube (because my roast wasn't fat enough to have drippings). Dump the cabbage (or in my case, coleslaw mix) and let it "steam" until it's soft enough (depends on how soft is good enough for you).
So there you go, bacon-wrapped, toaster oven-roasted Kalua Pork. If you want to use a slow cooker, read HMS' recipe for instructions on how long to cook the pork.
bon appétit! enjoy!